Alexis Furney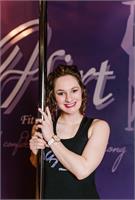 Hometown: Climax, MI
Favorite Songs To Dance To: "Colorblind" by Counting Crows
Favorite Quote: "The magic happens outside your comfort zone."
Why I Teach At Flirt: My favorite part about being a Flirt Instructor is my students, hands down. I love teaching. Teaching is a talent that not a lot of people are capable of doing as it requires a lot of humility, self analyzing, patience, and an ability to teach many different ways. My students are the reason I teach, they are the reason I complete continually education, they are the reason study, and they are the reason I love my job. Each one is so very special in my heart in their own ways, and I wouldn't change that for anything in this world.
What I Want For My Students: To develop a level of strength and understanding to where they can achieve their own goals. Also to challenge them through educating them in different kinds of dance, movement, choreography, combos, and strength. And to help them realize that utilizing these things will make the unique and original to themselves!
One Last Thing I Want You To Know: Love yourself, because you are perfectly imperfect, and that's what makes you unique!!
Alexis Furney instructs the following:
This is a split class. Level 5 students will learn Level 5 material and Level 6 students will learn Level 6 material.




You are a master. Of your body, of the pole, and of the universe. You'll hardly recognize the transformation in your body and soul by this point. You're doing hip circles while you brush your teeth and writhing in your living room just because it feels so GLORIOUS! You will float as you work your aerial inverts! Rock the "Rockstar spin"! You are doing 360's on the pole and your floor work is an earth moving display of sexy power! Rock on Sister! You are amazing!




Pole Poise is offered as an add-on class to students currently in Level 1, and available as a primary or add-on class to students who have completed one or more levels. This is a mixed-level class celebrating the sensual side of pole dancing with an emphasis on flow and individuality. As in other Flirt signature pole classes, you will enjoy a light, total body workout and spend time learning and refining a variety of pole moves; all while building your endurance and grace with extended dance time and extra instruction on accents. Students are encouraged to work individually or in teams to choreograph their Week 8 graduation performances. Because of the structure and emphasis of Pole Poise, inverts and advanced holds are not permitted in this class. Students are welcome to dance in bare feet or heels!

This class is perfect for anyone who has limited physical ability for any reason or would like to concentrate more on combinations and celebrate the beauty of the dance rather than the focusing on advanced tricks!




Take out the pin and enjoy the spin! Now that you have mastered tricks on a static pole, learn how to move when it spins. Completion or testing out of Beginner Spin is required.





This is a one time class to introduce you to our signature series or our specialty classes. It is intended for someone who wants to "test the waters" and try it before you buy it! You will experience a mock class of how our classes are ran. We will even have you dancing at the end! Please dress like you are going to a yoga class. We will be in bare feet. Avoid putting any lotions on your hands or body before you come in. Please bring a yoga mat.