Cassie Truskowski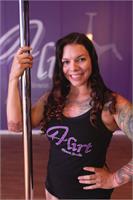 Hometown: Grand Rapids, MI
Favorite Songs To Dance To: NIN, Lana Del Rey, and dirty, sexy beats!
Favorite Quote: "You only live once. But if you do it right, once is enough." ~ Mae West
Why I Teach At Flirt: I get to work with amazing women on a daily basis. To be a part of their transformations - mentally, physically, and emotionally - makes it easily one of the best jobs in the world.
What I Want For My Students: I want every student to have fun and not take themselves too seriously. If they need to laugh or cry, I encourage them to just let go of everything and dance their booties off!
One Last Thing I Want You To Know: Founder & Director of the Daredevil Circus Company. Producer of the Danger Damsels Burlesque Revue. Contestant on America's Got Talent. Animal lover. Heel clacker. Twerker.
Cassie Truskowski instructs the following:
This is a split class. Level 3 students will learn Level 3 material and Level 4 students will learn Level 4 material.




Burn those calories while gaining strength specifically for pole!!! This class will run 90 minutes and will consist of basic spins and floor work, specific exercises designed to increase your strength, deep stretching and mini dance routines - all to your favorite songs! This class is tough! It's meant to make you fit and strong. It's also designed to compliment our signature pole classes by building those muscles! The atmosphere is loud, fun with a lot of "whoops" and relying on your class sisters! You are welcome to take this class barefoot or in athletic shoes. No heels needed for this one! This class is open to all levels. (Level 1 completed is preferred)




"Striptease, Lapdance and Pole". This sexy class will teach you a routine and combos using chairs or stools. Learn sexy floor work, body rolls, and more as you move up, slide down and slink around your chair, the pole or your "make believe" partner! You will learn tips, tricks and technique. A new routine is taught every session! Open to all levels!




This is a split class. Level 5 students will learn Level 5 material and Level 6 students will learn Level 6 material.