Tanya Gonzalez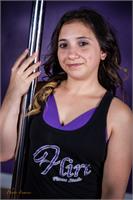 Hometown: Grand Rapids, MI
Favorite Songs To Dance To: "Anaconda" by Nicki Minaj, "Sail" by AWOLNATION, "Halo" by Beyonce + MANY more!
Favorite Quote: "No one can make you feel inferior without your consent." ~ Eleanor Roosevelt
Why I Teach At Flirt: I feel every woman should feel comfortable in her own body and appreciate it, no matter the shape or size. Teaching at Flirt allows me to do that! Getting strong - mentally and physically - is always accomplished here at Flirt!
What I Want For My Students: For every woman who walks through these doors to reconnect with the Goddess inside them! To not be afraid to be sexy!
One Last Thing I Want You To Know: Before I started taking classes at Flirt, I struggled at the gym. It was all until I met Amy and found Flirt Fitness that I was getting stronger every week and pushing myself through each session. The most important part of that was I was having FUN and that's the key to workout success!
Tanya Gonzalez instructs the following:
You are a goddess; a superhero. In this level, you'll begin seeing the world from a different point of view…upside down! Yes! Everyone's favorite - pole inversions! Feel weightless and strong as you begin the basic inversion. You'll also continue your high flying with one handed versions of your favorite tricks, and some new ones as well! Your dance is becoming second nature and it's time to begin weaning off your routine and out of your head as you begin free-style dancing. Express yourself!