Tanya Gonzalez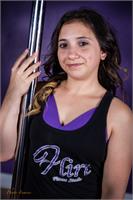 Hometown: Grand Rapids, MI
Favorite Songs To Dance To: "Anaconda" by Nicki Minaj, "Sail" by AWOLNATION, "Halo" by Beyonce + MANY more!
Favorite Quote: "No one can make you feel inferior without your consent." ~ Eleanor Roosevelt
Why I Teach At Flirt: I feel every woman should feel comfortable in her own body and appreciate it, no matter the shape or size. Teaching at Flirt allows me to do that! Getting strong - mentally and physically - is always accomplished here at Flirt!
What I Want For My Students: For every woman who walks through these doors to reconnect with the Goddess inside them! To not be afraid to be sexy!
One Last Thing I Want You To Know: Before I started taking classes at Flirt, I struggled at the gym. It was all until I met Amy and found Flirt Fitness that I was getting stronger every week and pushing myself through each session. The most important part of that was I was having FUN and that's the key to workout success!
Tanya Gonzalez is currently not instructing any classes.