Beverly Koch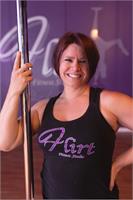 Hometown: Grand Rapids, MI
Favorite Songs To Dance To: I don't really have a favorite song to dance to, but I like to dance to any song that helps me express what I am feeling at the time.
Favorite Quote: "It's not about who someone else wants you to be. It's about being YOURSELF and finding someone who loves every bit of it!"
Why I Teach At Flirt: I teach at Flirt because I love what our studio stands for. I love that we are a big into our community and give back to local charities. I teach at Flirt because I want to share my passion and my love for pole fitness. I teach at Flirt because our doors are open to all woman - no matter your age, weight, or size. I teach at Flirt because it's an environment that empowers, uplifts, and inspires every woman who walks through our doors.
What I Want For My Students: I want my students to have the time of their lives. I want them to really let loose and be free. I want my students to feel stronger, sexier, and more confident after each class, and build on that throughout their sessions here. I want to give them an experience they will never forget.
One Last Thing I Want You To Know: You will become absolutely hooked after your first time here! I can't wait to meet you!
Beverly Koch instructs the following:
Twisted grip, cartwheel mount, handspring mount, advanced handstands, fongi and so much more are all yours in this level! This is an ongoing level that will prepare you for competitions, and to help you learn those Elite tricks to take you to the next level. This class is invitation only.




Hello Kitten! It's time to play! Your journey begins as you discover your new "body-loving", "inner-siren finding" self! You will be in awe of yourself as you find out what you are capable of and the 90 minutes will go by way too fast. We will work from the beginning on getting those cores and upper bodies stronger every day. Learn the basics of pole dancing from beautiful spins and accents to our signature "Flirt dance routine!"




This is a split class. Level 4 students will learn Level 4 material and Level 5 students will learn Level 5 material.




This is a split class. Level 3 students will learn Level 3 material and Level 4 students will learn Level 4 material.