Beverly Koch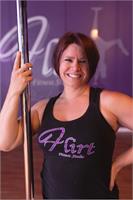 Hometown: Grand Rapids, MI
Favorite Songs To Dance To: I don't really have a favorite song to dance to, but I like to dance to any song that helps me express what I am feeling at the time.
Favorite Quote: "It's not about who someone else wants you to be. It's about being YOURSELF and finding someone who loves every bit of it!"
Why I Teach At Flirt: I teach at Flirt because I love what our studio stands for. I love that we are a big into our community and give back to local charities. I teach at Flirt because I want to share my passion and my love for pole fitness. I teach at Flirt because our doors are open to all woman - no matter your age, weight, or size. I teach at Flirt because it's an environment that empowers, uplifts, and inspires every woman who walks through our doors.
What I Want For My Students: I want my students to have the time of their lives. I want them to really let loose and be free. I want my students to feel stronger, sexier, and more confident after each class, and build on that throughout their sessions here. I want to give them an experience they will never forget.
One Last Thing I Want You To Know: You will become absolutely hooked after your first time here! I can't wait to meet you!
Beverly Koch instructs the following:
Twisted grip, cartwheel mount, handspring mount, advanced handstands, fongi and so much more are all yours in this level! This is an ongoing level that will prepare you for competitions, and to help you learn those Elite tricks to take you to the next level. This class is invitation only.




You are a master. Of your body, of the pole, and of the universe. You'll hardly recognize the transformation in your body and soul by this point. You're doing hip circles while you brush your teeth and writhing in your living room just because it feels so GLORIOUS! You will float as you work your aerial inverts! Rock the "Rockstar spin"! You are doing 360's on the pole and your floor work is an earth moving display of sexy power! Rock on Sister! You are amazing!




Lookout world! You are feeling uber-confident by now. Show off cheeky girl!!! The Gemini, The Scorpio, the Cross-Knee release OH MY!!! You are not going to believe what your body is capable of after one whole year at Flirt! Celebrate yourself and your anniversary with us as you pay homage to the sexier, confident, stronger YOU! Congrats Girl! You've earned it, you little vixen!




Level 10.5 is transitioning you from Level 10 to Elite.