Amy Schoonover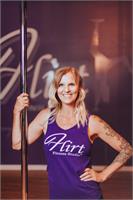 Hometown: Grandville, MI
Favorite Songs To Dance To: It depends on the mood that I am in. If I'm feeling really sappy or sad, I love to dance to anything by Sam Smith or Let Me Hold You by Josh Krajcik. If I'm feeling like a badass and want to feel alive, I like to dance to anything by Skrillex or Bad by David Guetta. The days that I'm feeling super sexy, I'll play Lioness, Hours by FKA Twigs, or anything by The Weeknd. If I just plain need to dance it out, I'll throw on songs like Beneath your Beautiful or Bless the Broken Road or Girl Crush.
Favorite Quote: "She believed she could, so she did." ~ R.S. Grey
Why I Teach At Flirt: It's my passion…..not just pole, but to inspire women. Being able to share my story and my life with a beautiful community and being able to introduce a safe haven for women to feel secure in themselves is the most humbling, honoring peach I could ever wish for.
What I Want For My Students: I want each of my students to feel sexy, strong and confident. I want them to be able to free the inner goddess within them and be thankful for each curve of uniqueness they have. I want them to feel empowered by the physical strength pole gives them. I want them to be able to honestly look at their reflection in the mirror and say "you are beautiful".
One Last Thing I Want You To Know: You are an amazing creature of this earth and you are capable of so much more that you think you are. Life is about living and as a woman we tend to always live for others instead of ourselves. Take time for you, no matter what it is, to connect your mind, your body and your spirit. Student or not, I see the beauty in you. I believe in you. Oh – and – free laughs, smiles, hugs and more 24/7! Come in and share your story with me!!!
Amy Schoonover instructs the following:
Liquid Motion is a methodology that can apply to any aspect of life, from everyday movement to technical dance vocabulary. This program teaches how to achieve a seamless and natural movement quality by applying basic dance theory and sensual movement exploration. Through self-confidence, knowledge of techniques and power of individuality, you will have the tools to further your education and exploration on your own. Liquid Motion teaches fluidity through sensual movement and basic dance theory. Regardless of the student's dance experience, our program will provide the tools to explore the body's natural movement, build self-confidence, and understand the body on a higher level. These classes are designed to appeal to everyone, from the every day person to the advanced dancer or instructor.




This sexy class will teach you a routine and combos using chairs or stools. Learn sexy floor work, body rolls, and more as you move up, slide down and slink around your chair, the pole or your "make believe" partner! You will learn tips, tricks and technique. A new routine is taught every session! Open to all levels!




You are a goddess; a superhero. In this level, you'll begin seeing the world from a different point of view…upside down! Yes! Everyone's favorite - pole inversions! Feel weightless and strong as you begin the basic inversion. You'll also continue your high flying with one handed versions of your favorite tricks, and some new ones as well! Your dance is becoming second nature and it's time to begin weaning off your routine and out of your head as you begin free-style dancing. Express yourself!




Pole Poise is offered as a specialty class to students currently in Level 1, and available as a primary or specialty class to students who have completed one or more levels. This is a mixed-level class celebrating the sensual side of pole dancing with an emphasis on flow and individuality. As in other Flirt signature pole classes, you will enjoy a light, total body workout and spend time learning and refining a variety of pole moves; all while building your endurance and grace with extended dance time and extra instruction on accents. Students are encouraged to work individually or in teams to choreograph their Week 8 graduation performances. Because of the structure and emphasis of Pole Poise, inverts and advanced holds are not permitted in this class. Students are welcome to dance in bare feet or heels!

This class is perfect for anyone who has limited physical ability for any reason or would like to concentrate more on combinations and celebrate the beauty of the dance rather than the focusing on advanced tricks!




Pole Flirts: Welcome to the Flirty level of getting more bruises, tuckering out those shoulders and putting that strong core to work! In this level, we will take you to soaring heights in your Cupids and daring descents in your Sad Girl Drop. Enjoy the flow of your Torso Switches and Reverse Climbs as you start to experience unique ways to get up, and another ways to come down the pole!