Marchella Walsh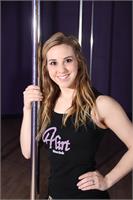 Hometown: Detroit, MI
Favorite Songs To Dance To: I love dancing to slow songs at the studio because each movement is meaningful.
Favorite Quote: "Most people live and die with their music still unplayed. They never dare to try." ~ Mary Kay Ash
Why I Teach At Flirt: I teach at Flirt for the sisterhood and the friendships that I have made over the past year. I have met some amazing women who inspire me daily.
What I Want For My Students: I want my students to understand that this is a journey, and journeys take time. I want all of the women I work with to leave feeling confident and beautiful - each and every week!
One Last Thing I Want You To Know: When I started taking classes at Flirt in October 2013, I had no idea ho much that decision would impact my life. I love that this is my "job" and I feel blessed to be a part of this positive shift in the world of fitness.
Marchella Walsh is currently not instructing any classes.