Marchella Walsh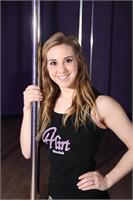 Hometown: Detroit, MI
Favorite Songs To Dance To: I love dancing to slow songs at the studio because each movement is meaningful.
Favorite Quote: "Most people live and die with their music still unplayed. They never dare to try." ~ Mary Kay Ash
Why I Teach At Flirt: I teach at Flirt for the sisterhood and the friendships that I have made over the past year. I have met some amazing women who inspire me daily.
What I Want For My Students: I want my students to understand that this is a journey, and journeys take time. I want all of the women I work with to leave feeling confident and beautiful - each and every week!
One Last Thing I Want You To Know: When I started taking classes at Flirt in October 2013, I had no idea ho much that decision would impact my life. I love that this is my "job" and I feel blessed to be a part of this positive shift in the world of fitness.
Marchella Walsh instructs the following:
You are like the mythical siren that demands attention and hypnotizes those around you with your beauty and song. The journey continues as you work on more difficult combos, poses and holds at the top of the pole, and more challenging ways to invert yourself. You will begin slithering all over that pole! Triple tricks and lots of invert dismounts are going to make you feel like an acrobat! You're free styling your dance by now and it's like a moving meditation. You are lost in yourself. When the song stops, you will hardly remember what you did, just that it felt DIVINE!