Marchella Walsh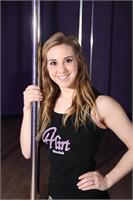 Hometown: Detroit, MI
Favorite Songs To Dance To: I love dancing to slow songs at the studio because each movement is meaningful.
Favorite Quote: "Most people live and die with their music still unplayed. They never dare to try." ~ Mary Kay Ash
Why I Teach At Flirt: I teach at Flirt for the sisterhood and the friendships that I have made over the past year. I have met some amazing women who inspire me daily.
What I Want For My Students: I want my students to understand that this is a journey, and journeys take time. I want all of the women I work with to leave feeling confident and beautiful - each and every week!
One Last Thing I Want You To Know: When I started taking classes at Flirt in October 2013, I had no idea ho much that decision would impact my life. I love that this is my "job" and I feel blessed to be a part of this positive shift in the world of fitness.
Marchella Walsh instructs the following:
You are a goddess; a superhero. In this level, you'll begin seeing the world from a different point of view…upside down! Yes! Everyone's favorite - pole inversions! Feel weightless and strong as you begin the basic inversion. You'll also continue your high flying with one handed versions of your favorite tricks, and some new ones as well! Your dance is becoming second nature and it's time to begin weaning off your routine and out of your head as you begin free-style dancing. Express yourself!




Hello Kitten! It's time to play! Your journey begins as you discover your new "body-loving", "inner-siren finding" self! You will be in awe of yourself as you find out what you are capable of and the 90 minutes will go by way too fast. We will work from the beginning on getting those cores and upper bodies stronger every day. Learn the basics of pole dancing from beautiful spins and accents to our signature "Flirt dance routine!"





This is a one time class to introduce you to our signature series or our specialty classes. It is intended for someone who wants to "test the waters" and try it before you buy it! You will experience a mock class of how our classes are ran. We will even have you dancing at the end! Please dress like you are going to a yoga class. We will be in bare feet. Avoid putting any lotions on your hands or body before you come in. Please bring a yoga mat.