Jennifer Bileth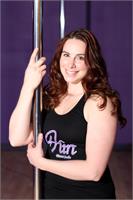 Hometown: Greenville, MI
Favorite Songs To Dance To: I can't name them all. I like any song, fast or slow, as long as it has a good beat or can just make my body move.
Favorite Quote: I don't really have a favorite quote
Why I Teach at Flirt: It's a great community! I have learned so much and want to share what I've learned with others and provide encouragement.
What I Want For My Students: I want them to be happy, gain confidence, encourage others, and have fun.
One Last Thing I Want You To Know: I believe in trying everything once. You never know what life will bring. I once tried out for the Dallas Cowboys Cheerleaders. I didn't make it but now I'm an instructor at Flirt. Life moves in all directions.
Jennifer Bileth instructs the following:
Hello Kitten! It's time to play! Your journey begins as you discover your new "body-loving", "inner-siren finding" self! You will be in awe of yourself as you find out what you are capable of and the 90 minutes will go by way too fast. We will work from the beginning on getting those cores and upper bodies stronger every day. Learn the basics of pole dancing from beautiful spins and accents to our signature "Flirt dance routine!"




You have risen to pole royalty, now rise to new heights.... on the pole that is! In this level you will learn a lot! You will begin your pole climbing, and I can't wait to see your face the first time you get to the top! Lots of hugs and high-fiving in this class! You will also learn more spins, turns, and begin to put them together into "Combo-tricks".