Nicole Braun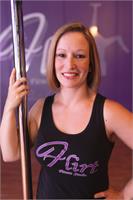 Nicole Braun instructs the following:
Hello Kitten! It's time to play! Your journey begins as you discover your new "body-loving", "inner-siren finding" self! You will be in awe of yourself as you find out what you are capable of and the 90 minutes will go by way too fast. We will work from the beginning on getting those cores and upper bodies stronger every day. Learn the basics of pole dancing from beautiful spins and accents to our signature "Flirt dance routine!"




You have risen to pole royalty, now rise to new heights.... on the pole that is! In this level you will learn a lot! You will begin your pole climbing, and I can't wait to see your face the first time you get to the top! Lots of hugs and high-fiving in this class! You will also learn more spins, turns, and begin to put them together into "Combo-tricks".