Nicole Braun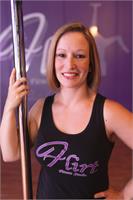 Nicole Braun instructs the following:
You have risen to pole royalty, now rise to new heights.... on the pole that is! In this level you will learn a lot! You will begin your pole climbing, and I can't wait to see your face the first time you get to the top! Lots of hugs and high-fiving in this class! You will also learn more spins, turns, and begin to put them together into "Combo-tricks".




Hello Kitten! It's time to play! Your journey begins as you discover your new "body-loving", "inner-siren finding" self! You will be in awe of yourself as you find out what you are capable of and the 90 minutes will go by way too fast. We will work from the beginning on getting those cores and upper bodies stronger every day. Learn the basics of pole dancing from beautiful spins and accents to our signature "Flirt dance routine!"




You are a goddess; a superhero. In this level, you'll begin seeing the world from a different point of view…upside down! Yes! Everyone's favorite - pole inversions! Feel weightless and strong as you begin the basic inversion. You'll also continue your high flying with one handed versions of your favorite tricks, and some new ones as well! Your dance is becoming second nature and it's time to begin weaning off your routine and out of your head as you begin free-style dancing. Express yourself!





This is a one time class to introduce you to our signature series or our specialty classes. It is intended for someone who wants to "test the waters" and try it before you buy it! You will experience a mock class of how our classes are ran. We will even have you dancing at the end! Please dress like you are going to a yoga class. We will be in bare feet. Avoid putting any lotions on your hands or body before you come in. Please bring a yoga mat.




Pole Poise is offered as a specialty class to students currently in Level 1, and available as a primary or specialty class to students who have completed one or more levels. This is a mixed-level class celebrating the sensual side of pole dancing with an emphasis on flow and individuality. As in other Flirt signature pole classes, you will enjoy a light, total body workout and spend time learning and refining a variety of pole moves; all while building your endurance and grace with extended dance time and extra instruction on accents. Students are encouraged to work individually or in teams to choreograph their Week 8 graduation performances. Because of the structure and emphasis of Pole Poise, inverts and advanced holds are not permitted in this class. Students are welcome to dance in bare feet or heels!

This class is perfect for anyone who has limited physical ability for any reason or would like to concentrate more on combinations and celebrate the beauty of the dance rather than the focusing on advanced tricks!