Susannah Peterson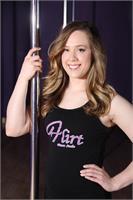 Hometown: Waukesha, WI
Favorite Songs To Dance To: Depends on my mood! Sometimes it's AC/DC or the classic "Pour Some Sugar on Me" by Def Leppard. If I'm feeling more dramatic, it can be "Say Something" by A Great Big World or anything by Sam Smith. Rihanna is kind of a fun go to, so I kind of love dancing to it all!
Favorite Quote: "There is freedom waiting for you, On the breezes of the sky, And you ask "What if I fall?" Oh but my darling, What if you fly?" — Erin Hanson
Why I Teach At Flirt: Flirt has completely changed my definition of fitness, what is sexy, and has transformed the way I think about my body. This studio has created such a wonderful, safe, comforting, encouraging environment that truly celebrates women and I am so excited and humbled to have the chance to be a part of Flirt and spread the message of empowerment to other women. It is so easy to get lost in obligations and errands and day-to-day life that we can lose sight of taking care of ourselves and Flirt has created a safe and inviting atmosphere that allows us to remember who we are as women and gives us time every week to take care of ourselves first before anyone or anything else.
What I Want For My Students: I want my students to feel sexy, strong, and powerful! I want them to be able to leave their obligations and responsibilities at the door and unleash their inner goddess. I want them to love themselves and know that they are beautiful, and sexy, and an amazing person!
One Last Thing I Want You To Know: It is the journey that matters! Everyone's pole journey is different and while it can be hard, don't compare yourself to anyone else! Everyone comes to Flirt from different backgrounds and fitness levels and it can be easy to get caught up in how other students are doing, but what is important is why you are here and how far you have come, not someone else!
Susannah Peterson instructs the following:
Ask and you shall receive! it's finally here and it's only offered one time and at one location. In this class, we will focus solely on stretching and active stretching. We will focus on anything and everything from back bends to side splits to middle splits to opening the shoulders. This class is open to all levels, including students that do not take pole classes. It's a great class to take with a friends so you can work on your splits together!




Welcome to the big leagues ladies!!! Now, the moves you learn will take some time to achieve and perfect. Give yourself time and a hug for reaching this point and remember that it's YOUR journey. The Cupid & the Teddy are just a couple of moves you will learn here. You will begin to learn how to transition in the air from one difficult move to another. After this level, you have a PHD in pole! Well done Doctor!




Hello Kitten! It's time to play! Your journey begins as you discover your new "body-loving", "inner-siren finding" self! You will be in awe of yourself as you find out what you are capable of and the 90 minutes will go by way too fast. We will work from the beginning on getting those cores and upper bodies stronger every day. Learn the basics of pole dancing from beautiful spins and accents to our signature "Flirt dance routine!"





This is a one time class to introduce you to our signature series or our specialty classes. It is intended for someone who wants to "test the waters" and try it before you buy it! You will experience a mock class of how our classes are ran. We will even have you dancing at the end! Please dress like you are going to a yoga class. We will be in bare feet. Avoid putting any lotions on your hands or body before you come in. Please bring a yoga mat.