Justine Helsen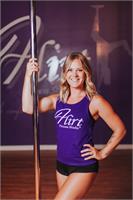 Hometown: Ravenna, MI
Favorite Songs To Dance To: My song choice really varies on my mood. I typically like songs with heavy emotion/meaning; something I can really relate to and pour my heart out through my movement. While other times all I want to dance to is something slow and sexy! Here are some of my favorites: Say You Love Me – Jessie Ware, Self-Conclusion – The Spill Canvas, Castle - Halsey, Dance for You – Beyoncé, Wildfire - Tinashe
Favorite Quote: "It doesn't make sense to call ourselves ugly, because we don't really see ourselves. We don't watch ourselves sleeping in bed, curled up and silent with chests rising and falling with our own rhythm. We don't see ourselves reading a book, eyes fluttering and glowing. You don't see yourself looking at someone with love and care inside your heart. There's no mirror in your way when you're laughing and smiling and happiness is leaking out of you. You would know exactly how bright and beautiful you are if you saw yourself in the moments when you are truly yourself."
Why I Teach At Flirt: Teaching pole and inspiring women gives me so much fulfillment and I believe with all of my heart that this is my calling in life. To have the opportunity to inspire and guide women through their pole journey as my instructors did for me is an honor. I believe in everything this studio stands for. As instructors, we are here to not only help you learn the art of Pole Fitness but, also, to learn the art of becoming a stronger, more confident you!
What I Want For My Students: I want my students to truly gain everything they hoped to gain from Flirt Fitness and MORE! I want my students to truly fall in love with themselves. I want to see them wear their bodies with great pride; loving every inch of their uniqueness. I want the wall size mirrors in the studio to no longer be a voice for their insecurities, but a FRIEND that gives them a clear reminder of their true beauty and strength. If my students walk out of the studio each week feeling confident, sexy, strong, and full of self-worth then I will know I am fulfilling my duties as an instructor.
One Last Thing I Want You To Know: Flirt Fitness is not just a "Pole Studio", it's also a safe haven built of a community of amazing women who are ready to welcome you into our lives as our sister. This studio has become my sanctuary where I can strip down all of my insecurities and express myself through my movement and I'm sure every woman at this studio would say the same for themselves. And, though taking the first step can be intimidating, I promise you, you will thank yourself for taking that courageous first step as you watch your life transform for the better... I can't wait to meet you!!!
Justine Helsen instructs the following:
Hello Kitten! It's time to play! Your journey begins as you discover your new "body-loving", "inner-siren finding" self! You will be in awe of yourself as you find out what you are capable of and the 90 minutes will go by way too fast. We will work from the beginning on getting those cores and upper bodies stronger every day. Learn the basics of pole dancing from beautiful spins and accents to our signature "Flirt dance routine!"




This sexy class will teach you a routine and combos using chairs or stools. Learn sexy floor work, body rolls, and more as you move up, slide down and slink around your chair, the pole or your "make believe" partner! You will learn tips, tricks and technique. A new routine is taught every session! Open to all levels!