Deana Haines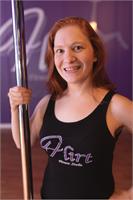 Hometown: Grand Rapids, MI
Favorite Songs To Dance To: It depends on how I am feeling... Porn Star Dancing, Just A Fool, GirlCrush, Often, The Hills, songs with explicit lyrics (yes, I admit that), Young and Beautiful, Say You Love Me... anything that helps express a feeling or feed a need at a particular time.
Favorite Quote: "Always do what you are afraid to do." - Ralph Waldo Emerson
Why I Teach At Flirt: I started taking classes at Flirt when it was at the original studio in EastTown. I have been an anxious person my entire life, and wanted to challenge my anxiety and push myself out of my comfort zone. I met Amy (founder of Flirt) and I asked her if she thought I really could learn pole. I honestly had no idea how much this would help my confidence and just make me feel good. I love the amazing connection I experience when I am at Flirt. It nurtures my soul. The bottom line is that I love people and I love helping people.
What I Want For My Students: I want to help create an environment for them to allow themselves to be vulnerable and try new things, without the worry of being judged. I want them to feel supported, loved, and encouraged.
One Last Thing I Want You To Know: If you think you are uncoordinated and clumsy... we are kindred spirits. It usually takes me longer to learn new things, but I think this helps me with my teaching, because I've experienced struggles and also really appreciate when something finally clicks in my brain. I have a tendency to say silly, goofy things(my family, students, and friends will agree with this), but I have a big heart and love people. I love animals, especially cats. (Shoot, I think that was more than one last thing.)
Deana Haines instructs the following:
You are a goddess; a superhero. In this level, you'll begin seeing the world from a different point of view…upside down! Yes! Everyone's favorite - pole inversions! Feel weightless and strong as you begin the basic inversion. You'll also continue your high flying with one handed versions of your favorite tricks, and some new ones as well! Your dance is becoming second nature and it's time to begin weaning off your routine and out of your head as you begin free-style dancing. Express yourself!




Pole Flirts: Welcome to the Flirty level of getting more bruises, tuckering out those shoulders and putting that strong core to work! In this level, we will take you to soaring heights in your Cupids and daring descents in your Sad Girl Drop. Enjoy the flow of your Torso Switches and Reverse Climbs as you start to experience unique ways to get up, and another ways to come down the pole!




You're almost there!!! This is your last level before you reach Elite status! This level will challenge you as you start to reach twistier and splittier tricks like the Star and the Jade Split. Level 10 can take up to 4 session to complete! We want to make sure that your Brass Monkey's, Iguana's and Yogini's are strong enough for you to feel comfortable for the combos we will spin you through in your first Elite level. Well done Flirt Sisters! You are now Warrior status!!!




Ask and you shall receive! it's finally here and it's only offered one time and at one location. In this class, we will focus solely on stretching and active stretching. We will focus on anything and everything from back bends to side splits to middle splits to opening the shoulders. This class is open to all levels, including students that do not take pole classes. It's a great class to take with a friends so you can work on your splits together!




This is a split level class. Level 9 students will learn level 9 material and level 10 students will learn level 10 material.