Deana Haines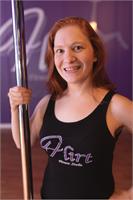 Hometown: Grand Rapids, MI
Favorite Songs To Dance To: It depends on how I am feeling... Porn Star Dancing, Just A Fool, GirlCrush, Often, The Hills, songs with explicit lyrics (yes, I admit that), Young and Beautiful, Say You Love Me... anything that helps express a feeling or feed a need at a particular time.
Favorite Quote: "Always do what you are afraid to do." - Ralph Waldo Emerson
Why I Teach At Flirt: I started taking classes at Flirt when it was at the original studio in EastTown. I have been an anxious person my entire life, and wanted to challenge my anxiety and push myself out of my comfort zone. I met Amy (founder of Flirt) and I asked her if she thought I really could learn pole. I honestly had no idea how much this would help my confidence and just make me feel good. I love the amazing connection I experience when I am at Flirt. It nurtures my soul. The bottom line is that I love people and I love helping people.
What I Want For My Students: I want to help create an environment for them to allow themselves to be vulnerable and try new things, without the worry of being judged. I want them to feel supported, loved, and encouraged.
One Last Thing I Want You To Know: If you think you are uncoordinated and clumsy... we are kindred spirits. It usually takes me longer to learn new things, but I think this helps me with my teaching, because I've experienced struggles and also really appreciate when something finally clicks in my brain. I have a tendency to say silly, goofy things(my family, students, and friends will agree with this), but I have a big heart and love people. I love animals, especially cats. (Shoot, I think that was more than one last thing.)
Deana Haines instructs the following:
You have risen to pole royalty, now rise to new heights.... on the pole that is! In this level you will learn a lot! You will begin your pole climbing, and I can't wait to see your face the first time you get to the top! Lots of hugs and high-fiving in this class! You will also learn more spins, turns, and begin to put them together into "Combo-tricks".




Pole Flirts: Welcome to the Flirty level of getting more bruises, tuckering out those shoulders and putting that strong core to work! In this level, we will take you to soaring heights in your Cupids and daring descents in your Sad Girl Drop. Enjoy the flow of your Torso Switches and Reverse Climbs as you start to experience unique ways to get up, and another ways to come down the pole!




Welcome to the big leagues ladies!!! Now, the moves you learn will take some time to achieve and perfect. Give yourself time and a hug for reaching this point and remember that it's YOUR journey. The Cupid & the Teddy are just a couple of moves you will learn here. You will begin to learn how to transition in the air from one difficult move to another. After this level, you have a PHD in pole! Well done Doctor!




We can't wait to introduce you to Twisted Grip and teach you your first "death defying" Superman Drop! Hang on tight as you experience crazy names like the Marly, Remy and VelcroButt! Level 9 earns you a special RockStar status!